Greek, Dutch, Spanish and British teens meet and exchange experiences
On March 23 the exchange meeting between the four researcher teenager teams was held.  The protagonists of the SEEDS project from Greece, UK, Spain, The Netherland met together with their referent researchers. Of course, only online. The ice was broken with a short quiz: 8 questions to learn about Athens (Greece), Exeter (UK), Reus, Tarragona […]
Published at 04.04.2022
On March 23 the exchange meeting between the four researcher teenager teams was held.  The protagonists of the SEEDS project from Greece, UK, Spain, The Netherland met together with their referent researchers. Of course, only online.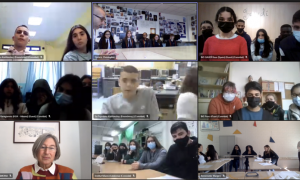 The ice was broken with a short quiz: 8 questions to learn about Athens (Greece), Exeter (UK), Reus, Tarragona and Miami (Spain), Rotterdam (The Netherlands) put everyone at ease.
The language was not a barrier: we have chosen English as a common language, yet everybody was free to speak their own native language. This also means being in Europe: finding a common way to understand each other and work together, a place where everyone feels included and can be listened to and valued.
Each team lived this experience differently. 
For the Dutch ambassadors it was very nice to see all people from other countries, both researchers and their peer-students! Some of them dared to speak some English themselves, but by translation we could all understand each other. It was great to share the interventions and to know what activities the students in other countries are doing at the moment. They can't wait to meet each other in person in Brussels at the end of the year!
The ambassadors from Spain were very exciting to join this meeting, and they prepared a presentation and some questions to ask to their peers. They are very happy to participate in SEEDS project as ambassadors!
And the Greeks? Here they are: