Living Knowledge Conference 2022 in Groningen, Netherlands
The SEEDS team participated in a storytelling session to share their experiences.
Published at 08.23.2022
An important part of science is sharing results, experiences and ideas. We often do this by going to conferences, where lots of people come together and present their work. This could be by giving a talk, running a workshop or presenting a poster with your results. However, the Living Knowledge Conference also has the option of a storytelling session, which some of our team ran! Annemieke, Wilma and Katerina from Erasmus MC and the City of Rotterdam and Claire from ECSA in Berlin shared their experiences in this session. Annemieke also had a presentation on SEEDS in a different session at the same time. This meant she had to run between rooms to get to both sessions!
Storytelling Time!
Claire started the storytelling session with some of the lessons the SEEDs team learned about the Makeathons in all four countries. We have learned so much from the process and have also learned from our mistakes. Annemieke then shared the experiences of the Dutch ambassadors and teenage scientists. She also shared the work of the interns. Katerina discussed how SEEDS is changing how the City of Rotterdam is working with teenagers in their community. Finally, Wilma explored how SEEDS will continue to have impact beyond the lifetime of the project. Our attendees had lots of questions and wanted to know lots more about the great work of our teenage scientists.
Sharing SEEDS
This was the same story in the other presentation about SEEDS. Here Annemieke gave a general overview of the SEEDS project and how we implemented this in the Netherlands. There was big interest in how we worked together with the students to develop and implement the interventions. A common goal is to actively involve youth in various kinds of (research) projects!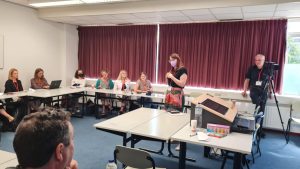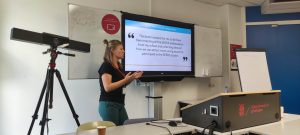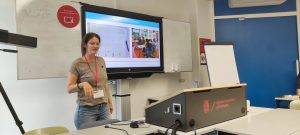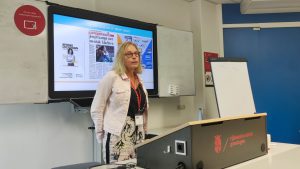 The figures show the four presenters: Claire (top left), Annemieke (top right), Katerina (bottom left) and Wilma (bottom right).